HBL Asset Management, 1LINK and FBL sign PayPak Agreement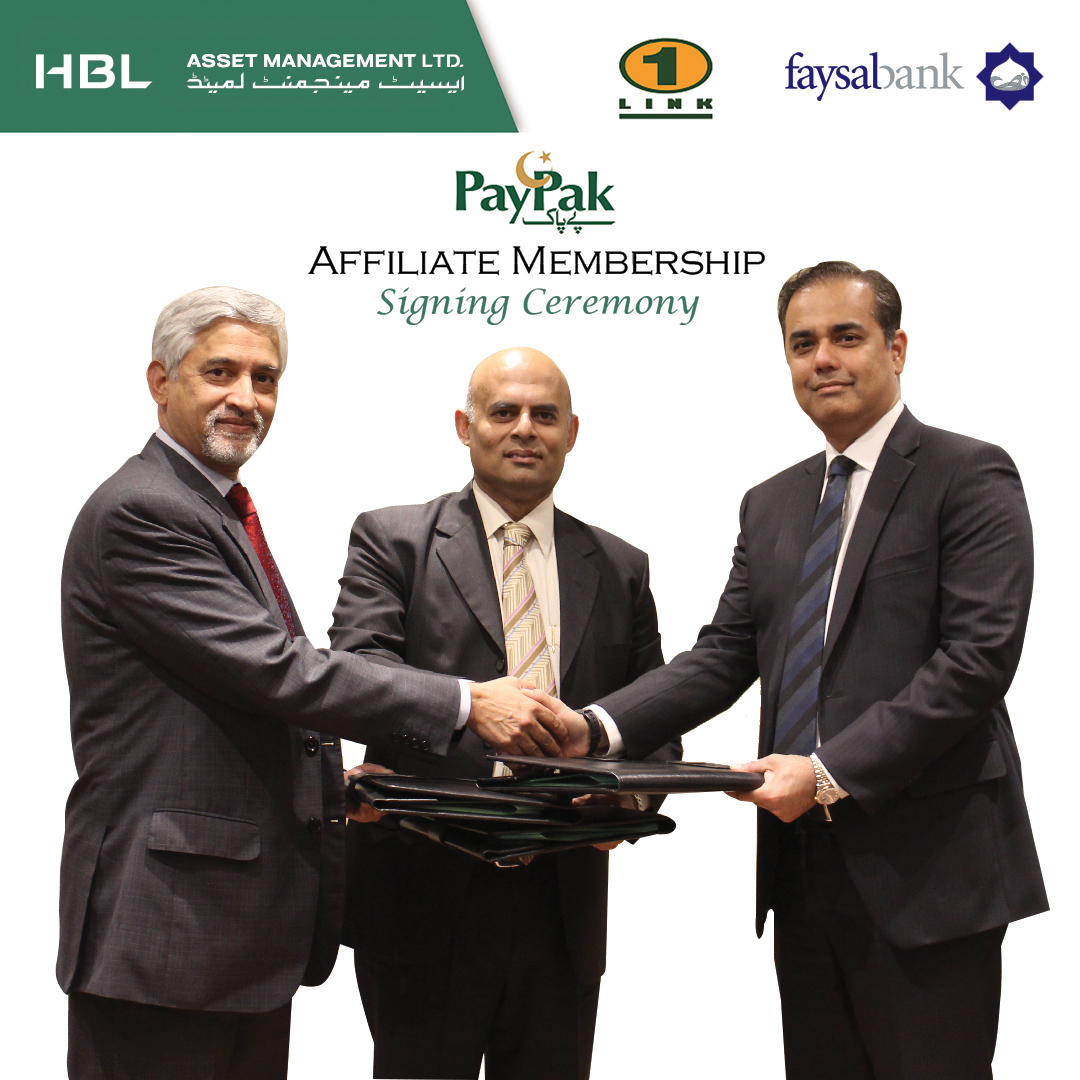 Karachi: HBL Asset Management (HBL AM), 1LINK (Guarantee) Limited (1LINK) and FBL signed two agreements for affiliate membership of PayPak along with Bill Payment Solutions facility. With these agreements, HBL AM's clients will be able to conduct online transactions between their mutual fund account and bank account with great convenience. It will also allow HBL AM to introduce its first ever card powered by 1LINK's PayPak which can be used at ATMs and POS machines throughout Pakistan.
Farid Ahmed Khan, CEO HBL Asset Management said "HBL AM is aggressively working towards implementing its digital strategy for expanding its outreach and bringing the convenience factor to the masses." Staying true to its motto of "Investments Made Easy", HBL AM's digital platform of internet transactions, mobile app, phone-based services and card services will revolutionize the concept of investments for its clients by allowing them to transact when they want and where they want.
PayPak is the first domestic payment scheme in Pakistan that is aimed at providing an indigenous, cost-effective alternative to international payment solutions. 1LINK is focused in enhancing financial penetration and broaden access to formal financial services in Pakistan. The goal of the agreement is a step forward in promoting financial digitalization in Pakistan in line with State Bank of Pakistan's NFIS and Vision 2020.
Mr. Abadullah, Head Compliance, FBL said, "We are pleased to be the partner in this initiative, this collaboration demonstrates FBL's robust technology capabilities and our mutual desire to meet customer expectations. We will continue to work with our FI partners and 1LINK team to provide cost effective & innovative digital payment solutions to our consumers in line with our strategy of digitization and following regulatory guidelines."
"1LINK is looking to reach out to a larger audience than ever before," said Mr. Najeeb Agrawalla, CEO 1LINK. "It's a pleasure to bring HBL AM onboard for the issuance of PayPak and BPS as this will not only deepen their portfolio but also contribute towards the enhancement of the digital financial landscape of the country."
About HBL AM
Rated AM2+ by JCR-VIS, HBL Asset Management is a wholly owned subsidiary of HBL Bank. It is managing a diversified portfolio of 19 funds with assets of Rs 58 billion.
About 1LINK
1LINK (Guarantee) Limited, owned by a consortium of 11 banks, is the country's 1st PSO/PSP and largest switch and payment system, providing a host of valuable online banking services like ATM switching, Bills Payment, Inter Bank Funds Transfer, Fraud Risk Management, Switch Dispute Resolution, Global Payment Schemes, PayPak – Domestic Payment Scheme, etc.
About Faysal Bank Limited
Faysal Bank is engaged in Commercial, Retail, Corporate and Islamic banking activities, the footprint now spreads over 123 cities with over 400 (including 198 dedicated Islamic branches). With total assets in excess of PKR 444.5 billion, Faysal Bank is amongst the significant players in Pakistan's banking industry.